Metal LED Light | TA180
Specification:
| | |
| --- | --- |
| Model: | TA180 |
| LED Quantity: | 180pcs |
| Product Name: | Mini LED Video Light |
| Charging Time: | Approx. 4 hours |
| Built-in Polymer Battery: | 3.85V 4040mAh |
| Max Power: | 12W |
| Color Temperature Range: | 3200K-5600K |
| Color Rendering: | >96 |
| Dimming Range: | 5-100% |
| Usage Temperature: | -10-35°C |
| Store Temperature: | -10-60°C |
| Net Weight: | 180g (approx.) |
| Size: | 151.5mm×80mm×9.8mm |
Description
Features
Specification
Product Tags
---
TA180 Mini Metal LED Video Light 3200K-5600K Digital Dimming Supplement Lamp for Nikon D600 D610 D90 D5000 D5100 D5200 D5300 D5600 D5500 D3300 D3200 D3100 D7000 D7100 D7200 D7500 D750 DF Z7 D800 D800E D810 D850 D700 D300 D300S D200 D100 N90S D1X Series D2 Series D3 D3S D3X D5 D4 D4X D5 D1H D1X D2 D2H D2X D2XS D2HS F5 F6 F90 F90X F100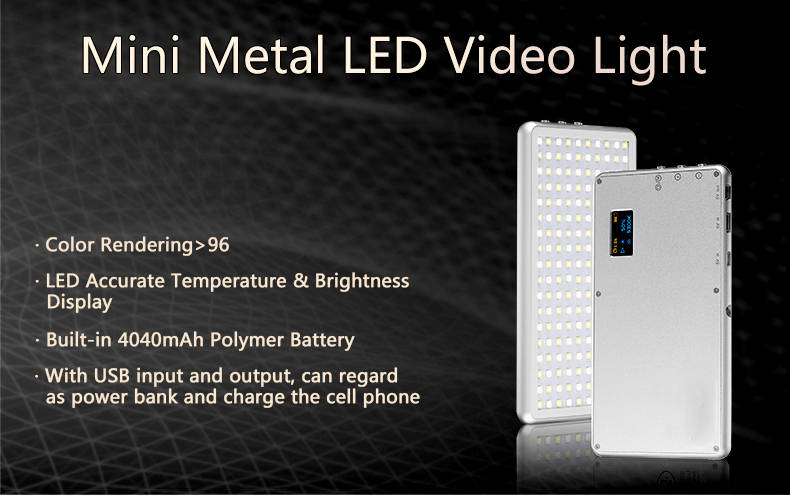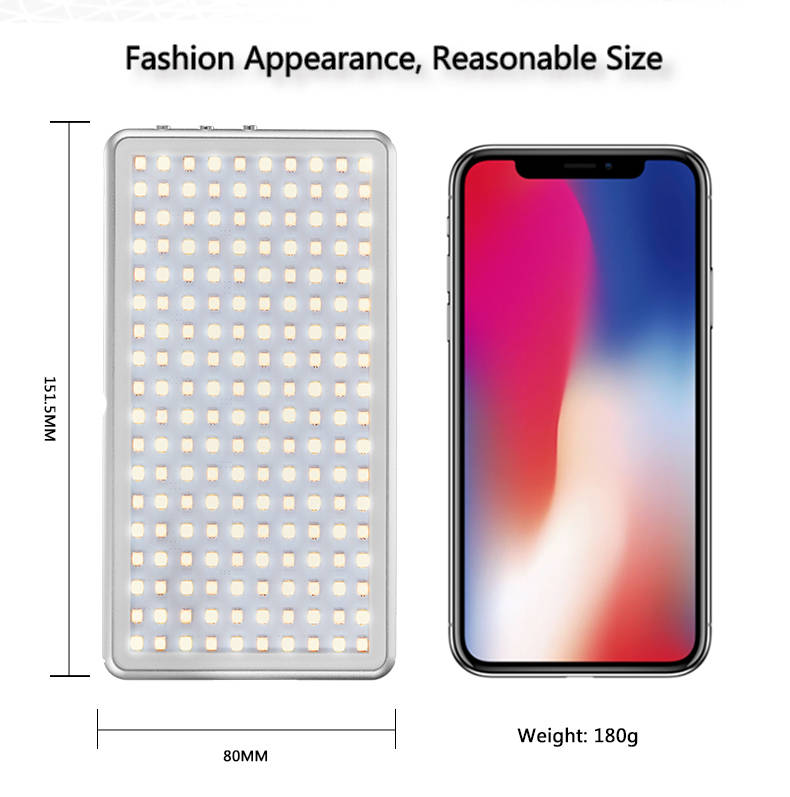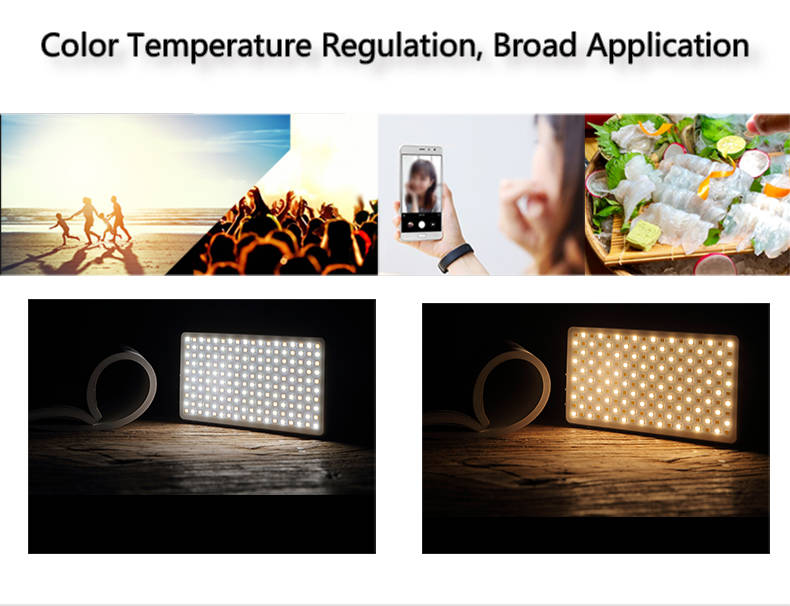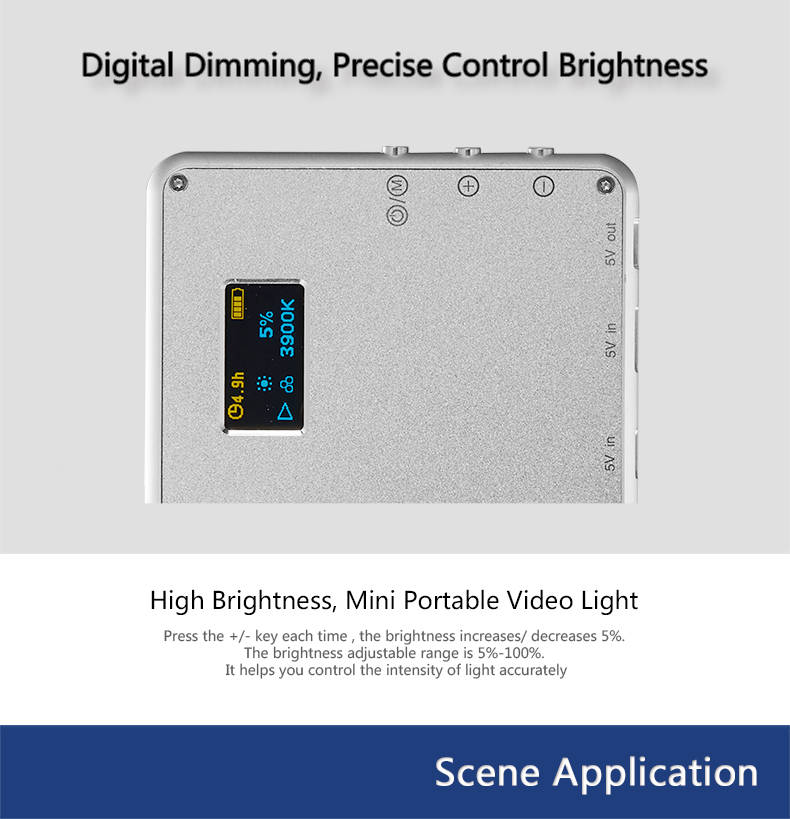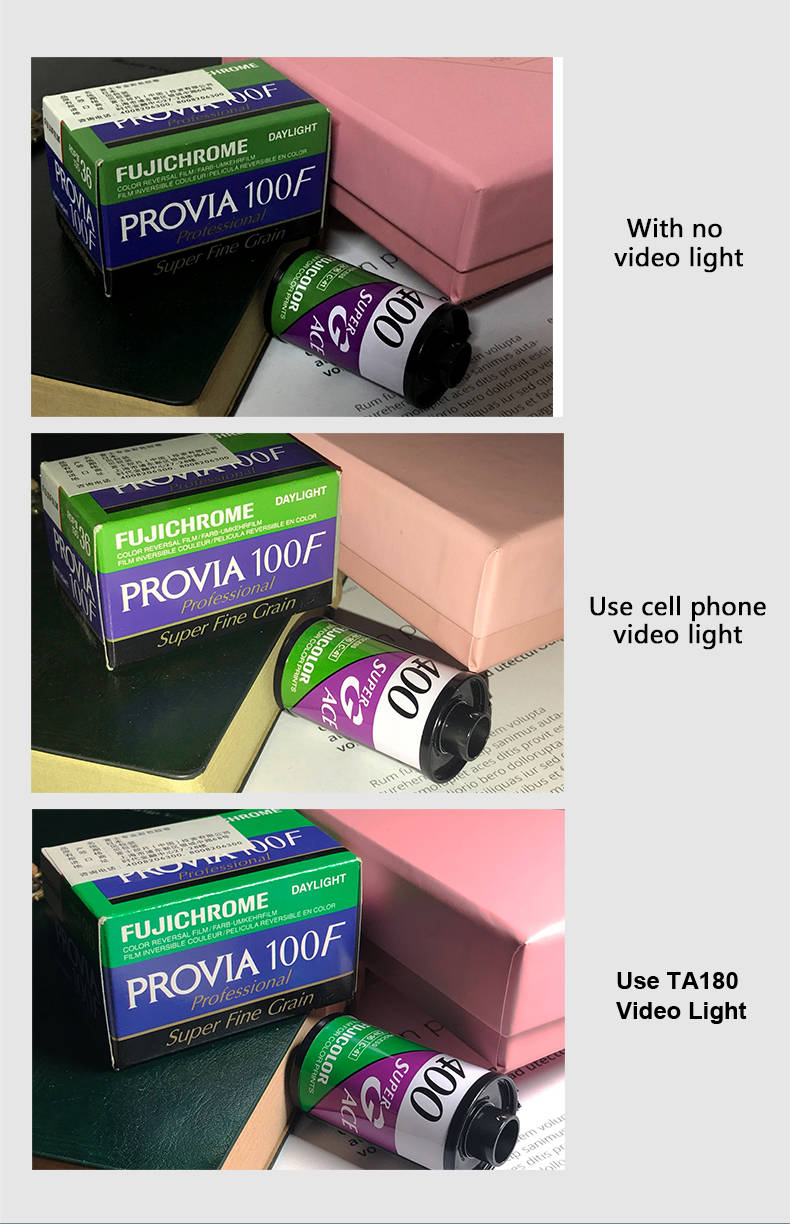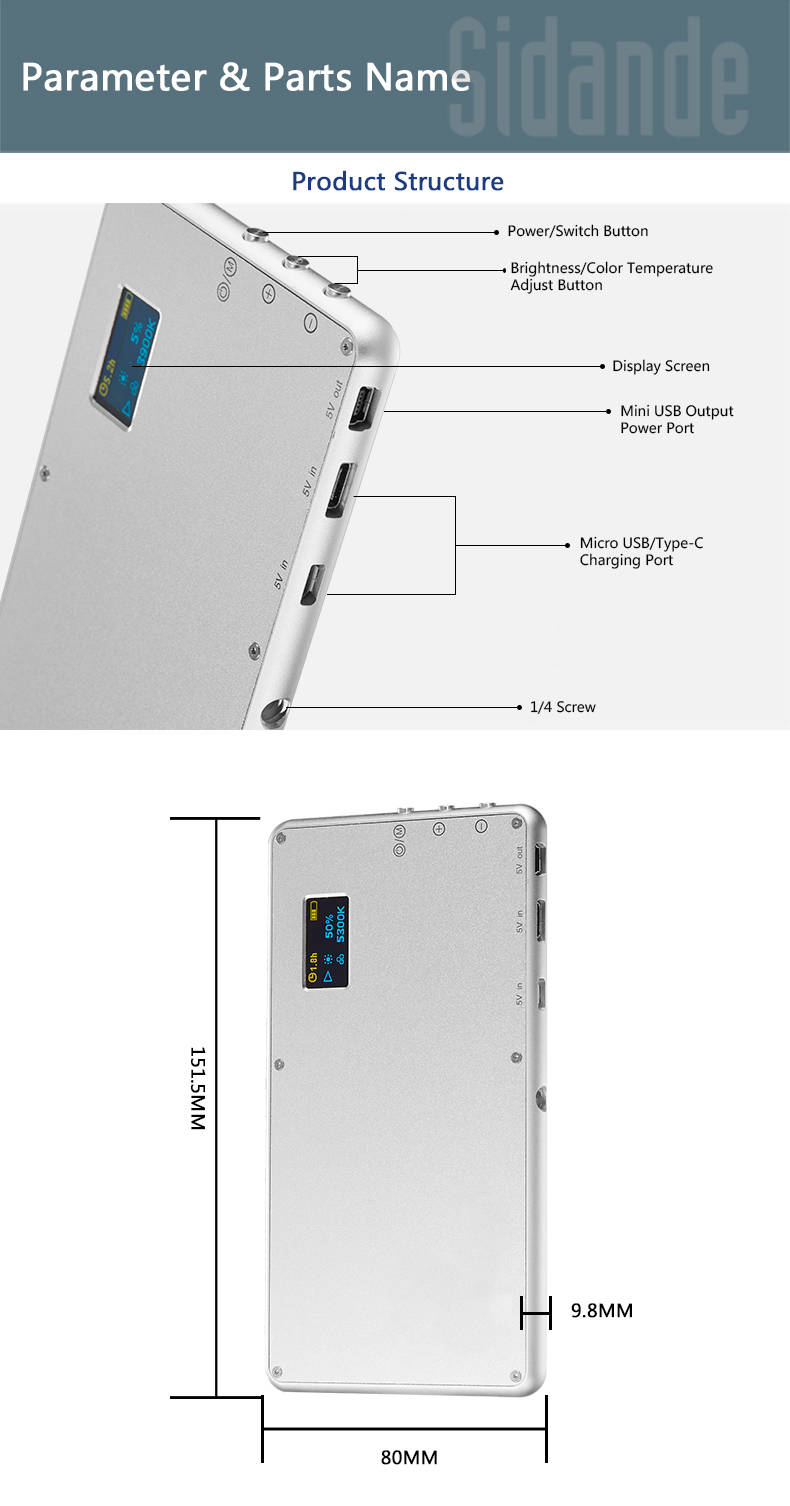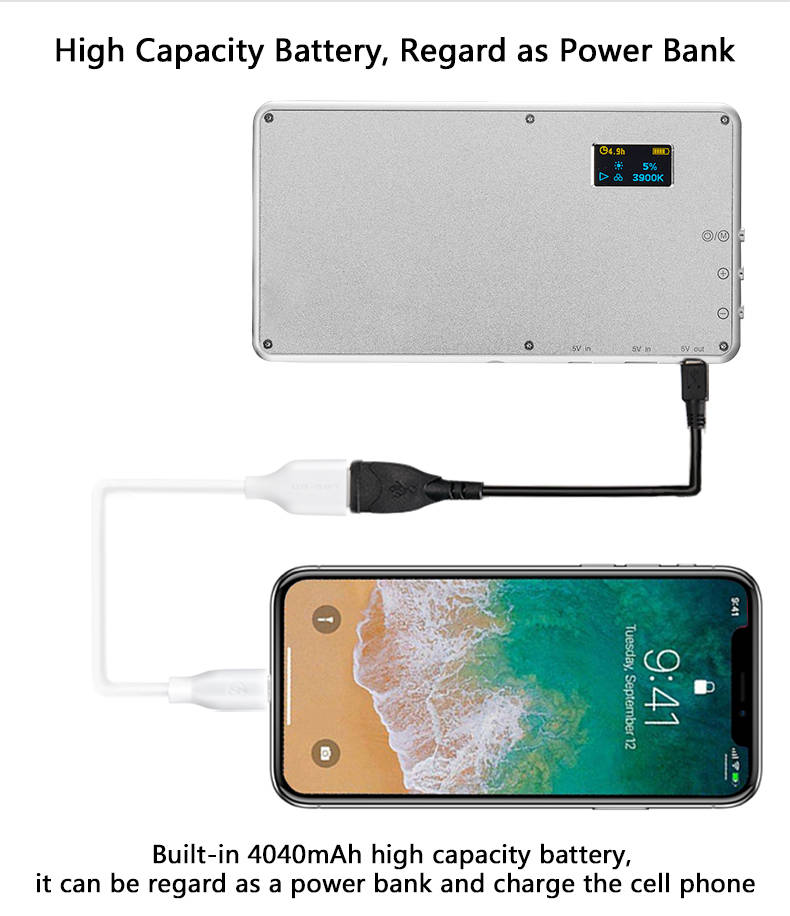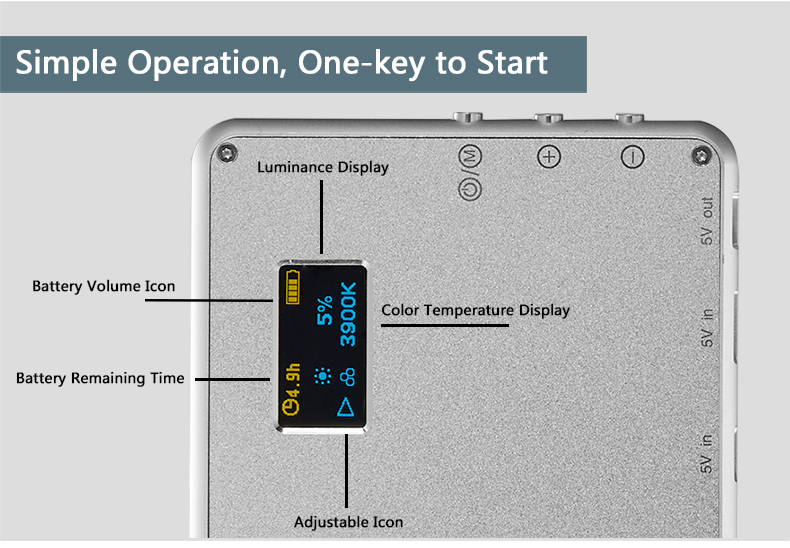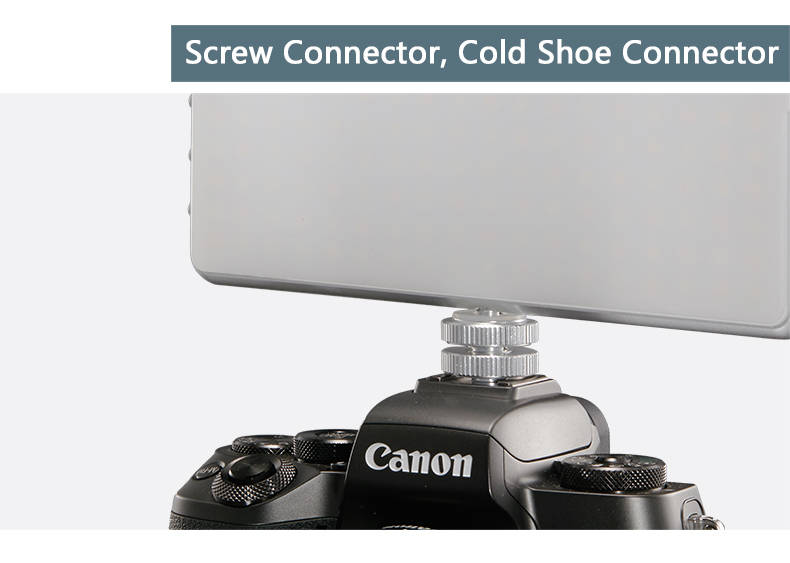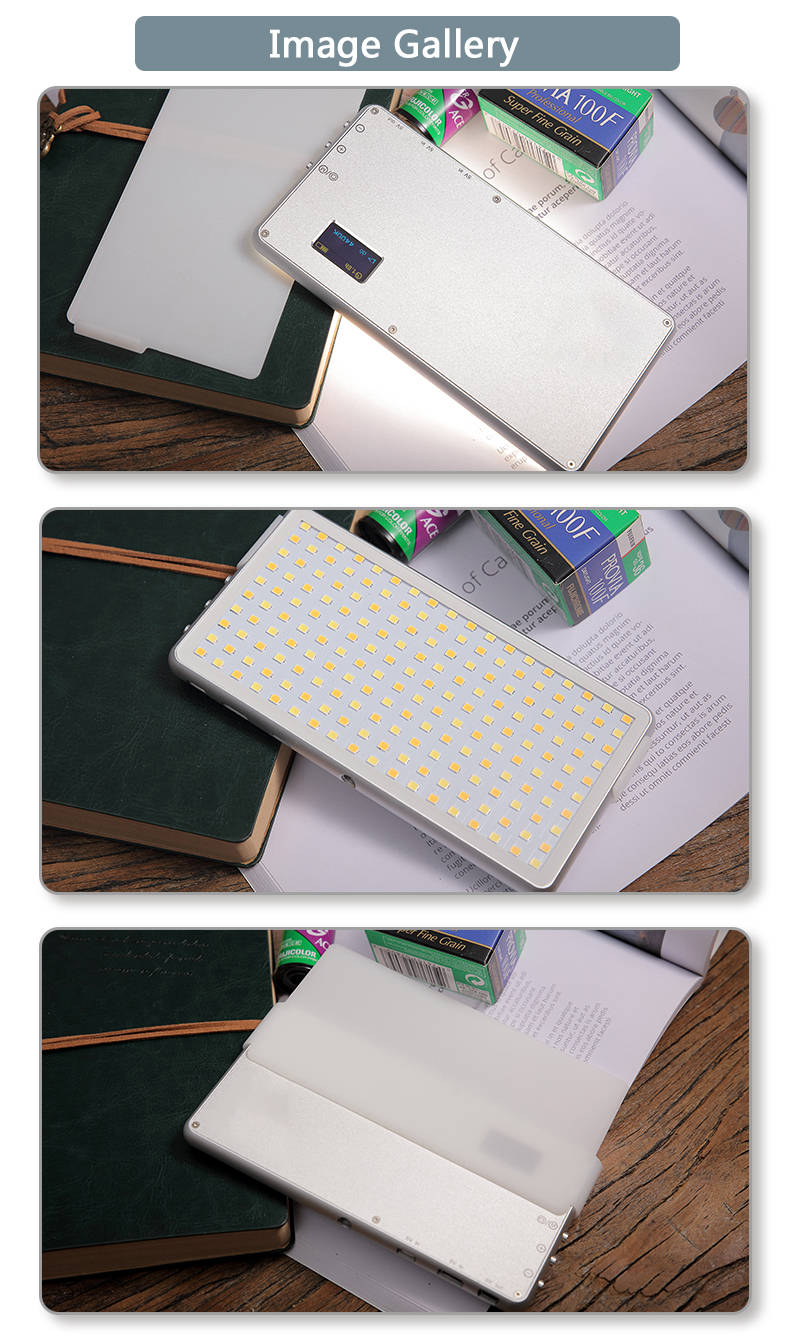 ---
Next:
TA180C LED Video Light
---
---
• Bi-Color—-color temperature: 3200K – 5600K; Bi-Color Panel light Brightness Adjustable: Color temperature increase gradually by 100 K(3100,3200…5000,5500K); Brightness at 5-100% increase gradually by 5%(5, 10,…95, 100).
• Slim and Lightweight—-dimension: 151.5mmX80mmX9.8mm,180g.
• Durable Aluminum—-moist proof and shock proof, work much longer than traditional plastic; High strength aluminium alloy frame with moist proof and shock proof, the aluminum fixture is compact and durable, designed to produce little heat, It can work much longer than traditional plastic light.
• High color rendering index (96 +) making image colors closer to nature.
• Micro USB and Type-C Charging Port—conveniently powered by power bank, car chargers, etc.
• Serve as Power Bank—DC 5V Output & 4040mAh high-capacity built-in battery, Power consumption(battery voltage:3.85v): 12 W, with USB input and output, can regard as power bank and charge the cell phone.
• High precision circuit board is perfect matched with 180 high lumen LED beads which makes the luminance more soft and even(1200lm). The soft light plate can quickly disassembled, and put it behind the video light, anti-lose.
• Widespread Application—can be mounted to any DSLR, camcorders, tripods and light stands.
• Widely use at wedding, interview, portrait, video, macro-shot, baby photography, and other studio shooting.
• LCD Digital Display: The LCD panel shows current readings of brightness, color temperature and battery power remain time, which makes this LED Video Light Panel easier for you to get accurate parameters and work more effectively.
• Wide Application: The Panel light equipped with a hot shoe mounting( 1/4" screw), compatible with most of DSLR cameras, camcorders or C-bracket, tripods, light stands. Widely used for portrait, fashion, wedding, interview, live streaming,advertisement studio photography and video shooting.
---
Model: TA180
LED Quantity: 180pcs
Product Name: Mini LED Video Light
Charging Time: Approx. 4 hours
Built-in Polymer Battery: 3.85V 4040mAh
Max Power: 12W
Color Temperature Range: 3200K-5600K
Color Rendering: >96
Dimming Range: 5-100%
Battery Working Time (5600K Power Continuous Output Approx. 1.5 hours)
Usage Temperature: -10-35°C
Store Temperature:-10-60°C
Net Weight: 180g (approx.)
Size:151.5mmX80mmX9.8mm